Cataloge for spring / Spring contact / EMI spring contact / SMD contact springs
Spring contacts have multiple function for solving customer's PCB problems.
These contacts are also known as Antenna contacts (used in the smartphone), Grounding contacts, spring or shield finger. Our spring contacts replace the traditional conductive foam and EMI gasket, not only its tiny size but its convenience for assembling process.
AJATO has developed more than 200 items for customer selection. Besides standard products, we also can follow your design to produce (OEM )
AJATO Co., Ltd. have strong engineer team and rich experience will help customer on the design for better performance.
Raw material:
Beryllium Copper, Phosphor Bronze, Stainless Steel, TiCu…etc.
Surface treatment:
Gold plating – good on electric conductivity .
Tin plating – good on Solderability and cost.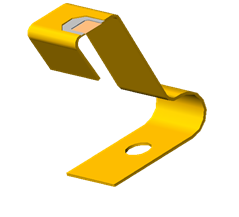 Spring contact application
Battery contact
Antenna spring connector
Golden Brick contact
Wire clampers for PCB
Grounding contact
Conductive connector